Web Design for Marketing Focused Ketamine & Wellness Treatment Centers
At Get Online Grand Rapids we support treating PTSD, treatment resistant depression and complex regional pain syndrome with ketamine infusion and Spravato™ (Esketamine) ketamine nasal spray, along with wellness (vitamin) infusions. We have created websites for Wellness & Ketamine Centers which have helped these start-up clinics grow by "leaps and bounds". We design the sites, find the photos, help write the pages and content, search-engine optimize everything, and then host your website. We create the Google listing and Facebook pages, and even offer regular Facebook posts. Our sites have always been at the top of Google for the cities our clinics are located in.
View a few examples of our clients' sites below, then contact us to see how we can help turn your dream of starting a ketamine & wellness clinic into a reality.
Ketamine & Wellness Infusion Center Web Design Examples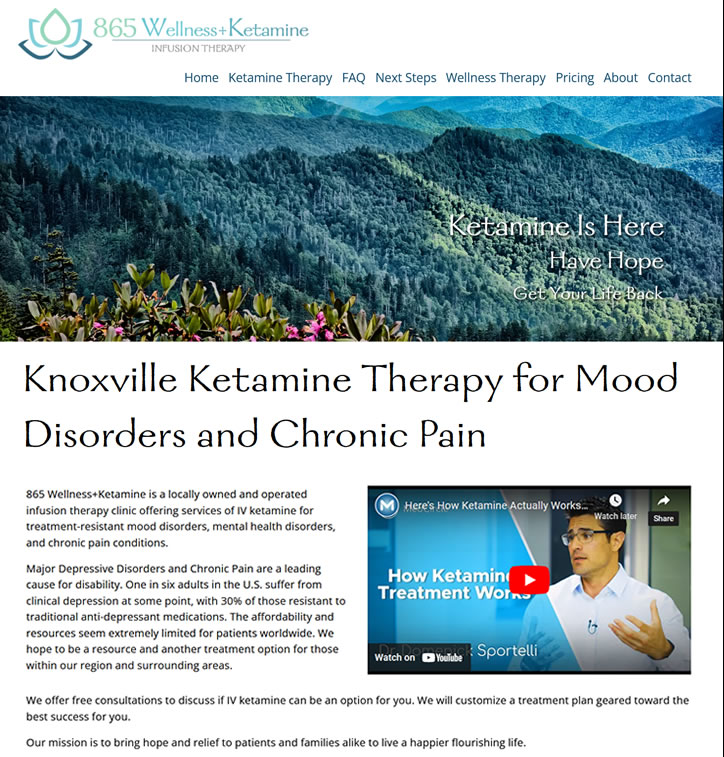 Website: www.865wellnessketamine.com
Industry: Ketamine + Vitamin Infusion Center
Location: Knoxville, TN
---
After seeing the other ketamine infusion center websites Kallen Web Design created, I knew they were the right company for our new clinic. They took my ideas about style and layout and made a site that is exactly what I needed. They are very responsive and thought of everything! The search engine work is fantastic, too. Even though we are new we are already on the first page of Google and climbing. The cost was affordable and they are very easy to work with - the service we receive from Hugh and Kathleen is truly excellent! I can honestly say you will not go wrong working with Kallen Web Design.
Jennifer Watson, CRNA
Clinic Owner/Manager
865 Wellness+Ketamine

---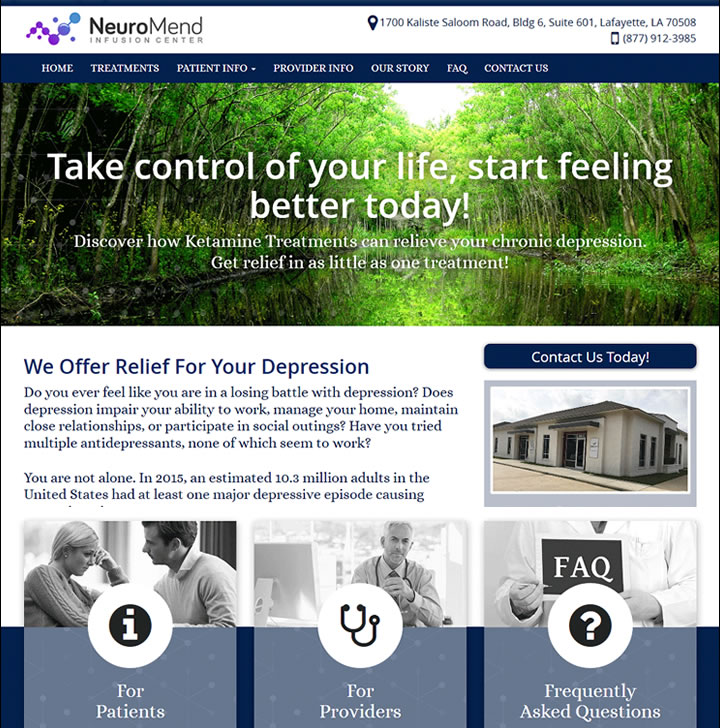 Website: www.neuromendcenter.com
Industry: Medical & Healthcare
Location: Lafayette, LA
---
We needed a web designer to create a marketing-focused website for our cutting edge medical facility. Get Online Grand Rapids made designing our website a great learning experience for our team. Hugh was always professional, resourceful, respectful, and kind, and we love what they created for us. We highly recommend Get Online Grand Rapids!
Jamie Holmes, MBA
The Pelon Group
---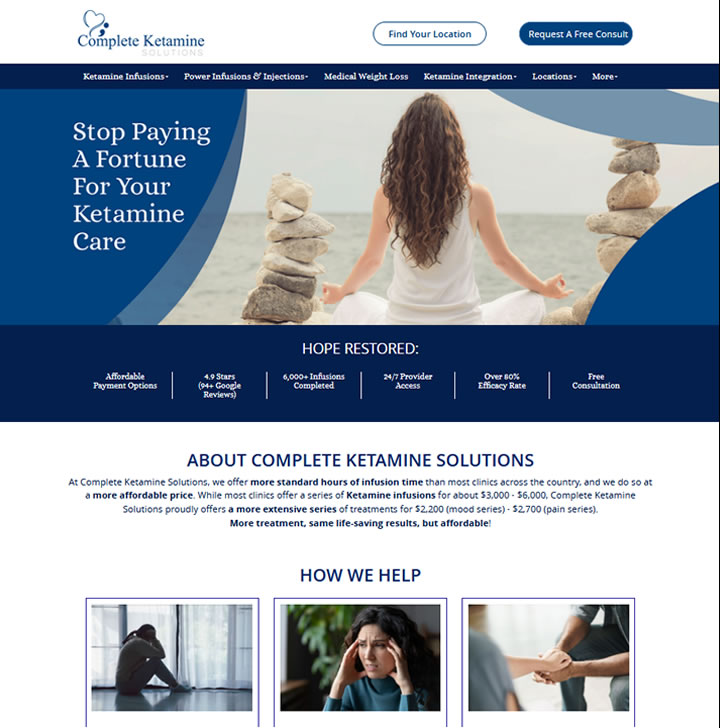 Website: www.completeketaminesolutions.com
Industry: Medical & Healthcare
Location: Nashville (Brentwood), TN
---
Get Online Grand Rapids designed and developed our Ketamine Infusion Center website while our practice was still in the planning stages. The website they designed and created is excellent. It is informational, marketing focused, beautiful, and top on the search engines. They created our Facebook page and our Google listing too. They have always given us dedicated, one-on-one service. We owe much of our exponential growth to their terrific website.
Clint Fletcher MSN, CRNA
Director of Operations
Complete Ketamine Solutions
---
---
Information About Infustion Center Websites
An important part of a successful Ketamine Treatment Center is having a website that sets you apart and is listed high on Google for people with treatment resistant depression that are searching for help. A modern, updated website doing well on the search engines and social media (like Facebook) will prompt them to call. We are experts in creating Ketamine Infusion Treatment websites. We understand the unique challenges you face in making people aware that your services are available and prompting them to actually make that first appointment. Contact us today to see how we can make an online presence really work to grow your Ketamine Center.
---
Do you have a web design project in mind?
We'd love to hear about it. Take five minutes to call or fill out a project form. You'll have a chance to speak directly with the Get Online Grand Rapids owners, and start down the path to having the website you need to increase your business or market your organization.